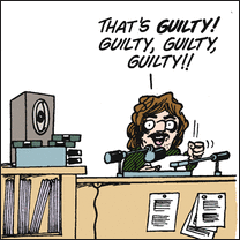 doonesburyGuilty.gif [ 23.47 KiB | Viewed 4509 times ]
HAMMOND — A federal jury found a scrap metal dealer guilty Thursday of stealing a historic railroad bridge.

Kenneth Morrison, owner of T&K Metals in Whiting, was tried this week in U.S. District Court on an interstate theft charge that he and a crew of workers cut up a disused bridge built in 1910 for a succession of railroad lines, just north of downtown Hammond, and sold it to Illinois scrapyards for more than $14,000.

Jurors deliberated one hour. A sentencing date is set for March 21.

Morrison pleaded not guilty. He didn't take the witness stand in his own defense.

His defense attorney, Sheldon Nagelberg, told jurors Morrison believed the Monon Bridge to be abandoned property, since Hammond city officials couldn't give him a straight answer on who owned it.

Assistant U.S. Attorney Richard Powers argued Morrison knew full well the city owned the bridge, because he had applied unsuccessfully to the city in 1991 and again in 2014 for work permits to scrap it. "This wasn't a mistake," Powers told jurors.

Powers said the defendant lied to others to cover up his theft, claiming he bought the bridge from either the city or a railroad line that had never owned it.