---
Here are a few I found on YouTube.
The whole #5629 fiasco (while unfortunate) is an interesting case study into the failures of railroad preservation.


This next video has a bit of a mystery, at the 0:33 minute mark there is a photo of the #5629 parked behind an 0-6-0 switcher (with no lettering on the tender) can anyone identify the 0-6-0? (I have attached a photo of it):
https://www.youtube.com/watch?v=epq8_Oc6MGY


This next video goes into more detail about the scrapping and the Blue Island Metra yards.
https://www.youtube.com/watch?v=TnG-kr5NoJA



Interesting comments on the second video:


junkdeal wrote:

No one on Youtube is closer than me to the demolition of 5629 in '88. My best friend, a first cousin of Gary Sinise , and his crew did the job on contract for Luria Steel. Dick Jensen was a broken man by this time, and made bad decisions. The reason it was cut instead of removed in 3 pieces by the Illinois Railway Museum, was a Federal Court order for destruction under the requirements of the Automotive Dismantlement Act, or something close. It's demands apparently tied their hands on it.

Damn right-he did it on a shoestring budget, too. Constant badgering from landlords, boxcar loads of equipment vanishing into scrapyards, ill health, etc. all did him in. At one time, he did what they said can't be done. Once they pulled the tracks behind the engine, though, that was it. The IRM was well capable of a multi-component breakdown and load-out, but the court had to order a total destruction because of title issues under some law. It was a criminal shame, like trashing a '57 T-bird.





up4004 wrote:

"In 1967 Southern Railway President W.Graham Claytor Jr.originally wanted Lease the 5629 for the Southern Steam Excursion Program but Sadly Claytor could not strike a deal with Jensen.





Station Agent Productions wrote:

For those of you who don't know what happened to Jensen and the 5629, here's the story: Dick was renting space at a roundhouse in Chicago to store the 5629. However, the owners of the roundhouse went bankrupt and kicked him out. After a couple of other problems including the scrapping of his lesser known CB&Q 4-8-4 #5632, the 5629 finally ended up at the Rock Island yard in Blue Island, IL. There, 5629 was stored with a loaded coal tender incase she was needed again. She never was. Dick wasn't paying his rent and to make matters worse, the 5629 was missing a few parts which made it impossible to move the locomotive safely. In 1980, the Rock Island went bankrupt and sold off the Blue Island yard to Metra Rail. The rest of the railroad was sold to the Iowa Interstate Railway. By 1987, Dick Jensen was in poor health after suffering heavy injuries after being crushed by a falling refrigerator. Unable to pay rent for 5629, and with Metra wanting to build a new building where the 5629 was parked, Metra cut it up where it stood in the late summer of 1987. Dick knew it was coming, and nobody would help him move it about 500 feet to the Iowa Interstate. It's kind of sad to think that if just one person said "Sure" 5629 could be steaming again today.




Lastly, if I hear talk of turning GTW #5632 into #5629 again I will scream.



Attachments:
File comment: The mystery 0-6-0.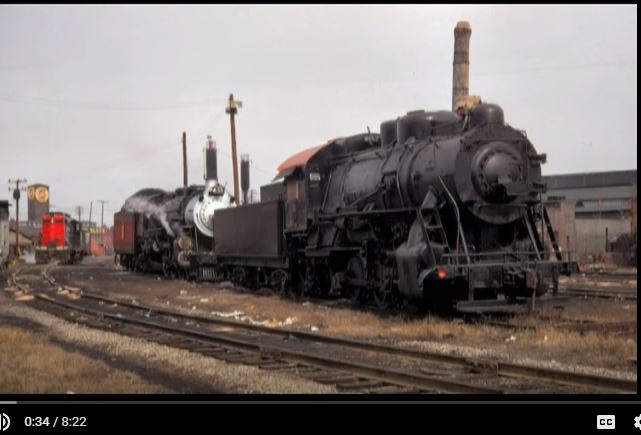 mystery.JPG [ 43.23 KiB | Viewed 1842 times ]