---
Trip Report: The New York Museum of Transportation
Story by Frank Hicks
The New York Museum of Transportation is a small, little known trolley museum in upstate New York, about 10 miles south of Rochester. It started late for a trolley museum, in the early 1970's, and until last year never ran an electric car. I visited NYMT in July, and I was impressed by all the progress being made there.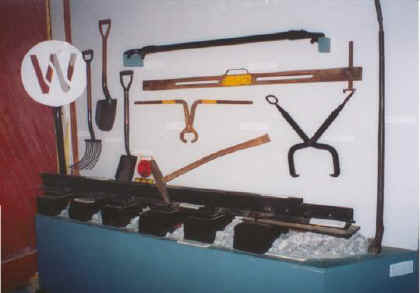 Gandy Dancer exhibit, New York Museum of Transportation. Jim Dierks photo.
The Museum is only open on Sundays, but I was able to arrange a guided tour on a Saturday, courtesy of Jim Dierks, a member of the NYMT Board of Trustees. The Museum is centered around a large agricultural barn with two tracks running out of one end. The barn was originally built as the dairy facility for a juvenile reformatory. The Museum took it over in the mid-1970's and used the indoor storage space for its collection.
Attached to the barn is a large cinderblock building, which is used for displays and parts storage. In addition to the barn tracks and an outdoor loading track alongside the barn, a loop of track circles the barn and leads to the Museum's main line. The main line meanders for about a mile and a half, ending at another museum that is run by the local NRHS chapter. While the two museums have a very close relationship, they are completely separate organizations; NYMT's focus is on electric cars, and the NRHS chapter's is on mainline railroad equipment.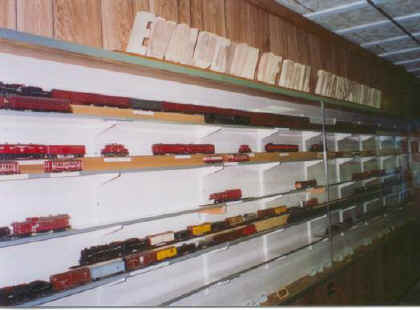 Evolution of Rail Technology exhibit, New York Museum of Transportation: Jim Dierks photo.
Inside the barn is stored the majority of NYMT's rolling stock, including three interurbans, a rapid transit car, a snow sweeper, two streetcars, a gas-mechanical "roller skate", a Trackmobile and an 0-4-0T. In one corner of the spacious barn is a replica depot; inside is the NYMT gift shop and a small video theater that is also used for a rotating display of transportation-oriented photo exhibits.
Most of the walls of the barn are taken up with an incredible number of displays, ranging from an excellent display on track construction (complete with spike hammer, welded to the head of a spike as if it had just been swung down), to displays on Rochester-area electric railways, and a fully restored speeder from the Rochester subway.
Walking out of the barn and into the attached cinderblock structure, you can see a large model train layout and an entire wall of HO-scale trains that showcase the "Evolution of Rail Technology." To make up for the non-rail part of the "Transportation" in NYMT's title, there is a fire truck, pickup truck and automobile, plus three buses, a road roller, Caterpillar snow plow and four horse-drawn vehicles.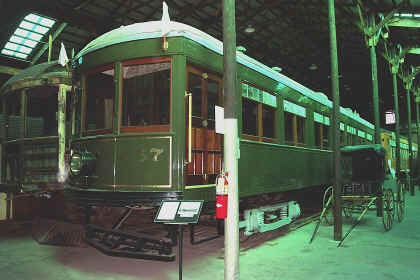 New York State Railways 157 presents a stunning appearance in the NYMT barn, having been cosmetically restored to its as-built appearance. Photo by Ted Thomas.
The rail collection concentrates on upstate New York, but also includes cars from elsewhere in the East. The historic centerpieces of the collection are two interurban cars, New York State Railways (Rochester & Eastern) 157 and Elmira Corning & Waverly 107.
The NYSR car is one of the last surviving cars built by Niles, and is a semi-steel coach built in 1914. Acquired as a body from the hurricane-ravaged Magee Transportation museum in the mid-1970's, NYMT has been working on acquiring parts to complete the last NYSR interurban in existence - even going as far as Japan to obtain the correct curved-equalizer trucks! An exterior restoration done to one end and one side of the 157 is the equal, in terms of quality of work, of any restoration I have ever seen.
EC&W 107 is a 1911 Jewett interurban coach, the last wooden interurban from the upstate area. It is significant partly because, although it was turned into a cottage after retirement, it actually retained its trucks and underbody equipment! This makes it a real candidate for full restoration, although the interior will have to be recreated. Car 107 is on display, but NYMT has not done any restoration work on it as of yet.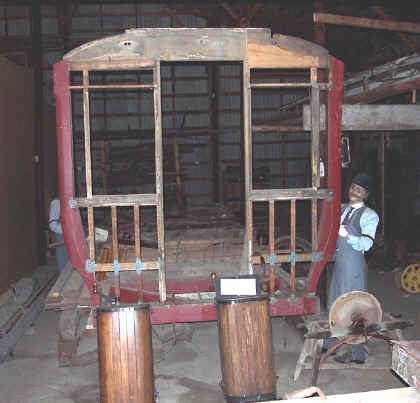 Rochester sand car 162 has been almost totally disassembled, and the frame has been turned into a display of streetcar construction complete with fake woodworkers. Photo by Ted Thomas.
There are several area streetcar bodies owned by NYMT. Two are stored inside: the surprisingly rot-free body of single-truck, semi-convertible 33 from Batavia, New York, and the frame of an 1891 Rochester single-truck car, 162. The latter car, acquired complete but in poor condition, was disassembled down to the floor framing by NYMT, and has not yet been reassembled. Every major museum has a car like this, but NYMT came up with an interesting way to make lemonade out of this lemon: together with manikins wielding saws, hammers and wood chisels, the car is presented as a display on the construction of early streetcars. Outside of the barn, under a tarp, is the body of Rochester double-truck semi-convertible car 437, for which parts are already being rebuilt.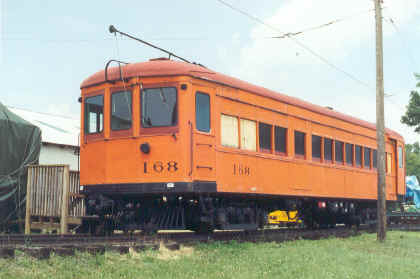 Philadelphia "Strafford" car 168 is currently NYMT's only operating electric car. Here it sits at the Museum's loading platform with the barn in the background. Photo by Frank Hicks.
The electric collection is rounded out by several cars from outside of NYMT's area. The first is a Philadelphia snow sweeper which was acquired in the mid-1970's; although operational, it has tram wheels and would likely derail on NYMT's track. There is also the body of a Northern Texas Traction parlor car, 409. This car was acquired in the mid-1990's after being ensconced in a local Spaghetti Warehouse restaurant, and its still-beautiful interior serves as a display of interurban luxury. There are also two Philadelphia "Strafford" cars, from the Philadelphia & Western Norristown line: 161 and 168.
After being retired around 1987, the cars were sold to Trans-Mississippi Trolley in Keokuk, Iowa, which added non-prototypical steps and ran them for tourists on the Keokuk Junction Railway, using a towed generator. Notably, the cars saw use during the 1993 Mississippi River floods, when they carried people back and forth on the trolley wire-equipped power dam, the only useable span within several hours. They were acquired by NYMT in 1996 for the purpose of beginning electrified operation, and car 168 was in fact the first electric car ever to operate at the Museum, in 2001. The electrification is currently inoperable while a permanent substation facility is built, and the wire is extended from its current length of about 1500'.

Several other pieces of equipment complete the NYMT collection. There is a small Plymouth gas-mechanical locomotive from the Rochester subway which is stored in poor shape, and there is also an Alco-Cooke 0-4-0T obtained from Rail City in poor condition. Displayed with a recreated cab, it makes up a hands-on display on steam engines. There is the body of a snow plow from the Hornellsville (NY) Electric and a wooden caboose from the Genesee & Wyoming (originally Lackawanna), as well as the speeders that provide the ride for visitors.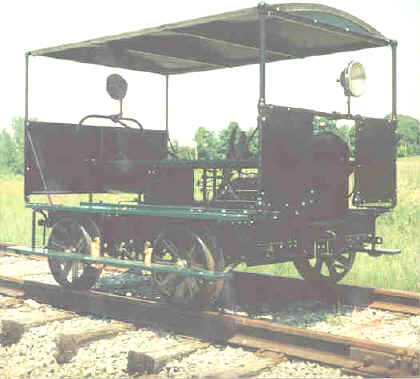 NYMT's Rochester Subway track car, fully restored and operational, includes many Model T-like features including a canvas roof and a Model T engine. Photo by Ted Morse.
Although NYMT is a modest operation, I was impressed by the progress being made at such a late stage in the trolley museum game. Electrification is being accomplished, cars are being restored with care and dedication to historical authenticity that some larger museums would envy, and the excellent displays that make the Museum so accessible to the public interest are continually being expanded and added to. The New York Museum of Transportation is highly recommended for anyone in the area - not just as a trolley museum, but as a good example of a medium-sized historical organization advancing and improving itself in ways that are obvious to even the most unobservant visitor.