---
Hugo Roundhouse
story by Bob Yarger
Colorado is noted for its abundant rail history, with numerous sites visited yearly by thousands of tourists. The Durango & Silverton Narrow Gauge and Cumbres & Toltec Scenic Railroads account for much of the visitorship, with lesser amounts to places like the Colorado Railroad Museum and Georgetown Loop. Far out on the dry Colorado prairie, however, sits another reminder of railroading's past, today in sad decay, seldom visited by anyone except by a few pigeons and the ever-present wind. This is the onetime Hugo roundhouse of the Union Pacific, in the tiny town of the same name, about 100 miles southeast of Denver, along U.S. 40.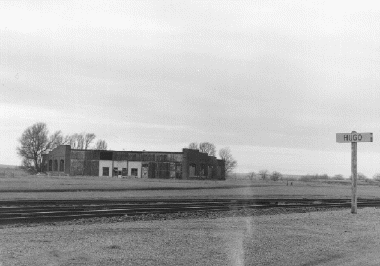 The lonely Union Pacific roundhouse at Hugo, Colorado has been abandoned for decades. In recent years, a proposal was formulated to save and restore it, but the plan died, due to small town political differences. It is one of only four UP roundhouses extant, and one of only two that have not seen portions demolished. Photo by Bob Yarger.
The present roundhouse at Hugo was built in 1909, an engine and crew change point on the lonely eastern Colorado uplands (actually higher than Denver in elevation). This route is the UP's Kansas City-Denver main line, built as the Kansas Pacific of book and movie fame. Never intended for more than servicing and running repair of locomotives, the roundhouse has eight stalls, all 85 feet in length. The hand-powered deck-girder turntable, long removed, was 80 feet long. The facility also had a 50-ton coaling plant, a 65,000-gallon water tank, and in later years, a wye (which surrounded the roundhouse) for turning locomotives too long for the turntable.
Today, only the roundhouse remains in its original location, though the town's small frame depot, built about 1885, still exists not far away, moved in the 1970s for a proposed museum, which has yet to take shape. Old UP records show other small structures nearby once included a power house, a roadmaster's office, signal maintainer's house, a hose house, an oil house, a "chicken house", two section houses, a bunk house for train crews, privies, an engine inspection shanty, a "jap" house (perhaps a bunkhouse for Japanese track laborers?), a motor car shed, a laundry building, a stable, a voting booth (?), an ice house, stock pens and three grounded carbodies also used as bunkhouses. Interestingly, the UP Bridge & Building Department records show dates, materials and costs of construction, and drawing numbers for each structure, the drawings for which may still be on file in the Union Pacific Museum collection at the former Omaha Union Station, now the Western Heritage Museum. Records also show the facility had a substantial fire protection, water and sewage system underground. There were three standpipes for watering locomotives, two on the main line and one on a roundhouse lead. The depot even had an auto unloading platform and small fenced and grassed park at one time. Clearly, the railroad was once the main employer in this small town of approximately 800 people.
The roundhouse itself is of brick construction, designed for locomotives to enter smokebox-first, with typical wood timber framing to support the roof and front wall. It is believed to be identical to one which once existed at Sharon Springs, Kansas, the next crew change point to the east, approximately 100 miles away. Others which were of identical design, but different size, were once located at LaSalle, Colorado (four stalls) and Sterling, Colorado (10 stalls, 6 of which are still extant). The floor today at Hugo is mostly concrete, with replaceable end-grain wooden blocks in some places. It is unclear whether the concrete was original or added by a later owner, but the wooden block flooring was common for roundhouses of that era. UP records show "concrete engine pits- creosote block floors". The roof was the typical wood plank, tar and gravel type, with asbestos cementboard smokejacks at the ends of the stalls. All windows are an elegant arch-top design, with frames of wood.
The back wall of the roundhouse has the most deteriorated brickwork. The inside is filled with debris, including the collapsed roof structure. Photos by Robert Holland.
At a presently unknown date, possibly 1952, the roundhouse was sold to a local farm implement dealer, who established his business there. Three of the center stalls were given new doors, a suspended ceiling, and transformed into a hardware store. An elderly local person said he removed the turntable and filled in the pit for the railroad in 1947. Thus it is unclear whether the roundhouse continued to house locomotives after that date or not. The UP B&B records, which continue into the 1950s, do not indicate when the turntable was removed, but do note the removal dates of some other structures. The last use of steam locomotives on this line is believed to have occurred in 1956. Restoration research, to be described further, shows the building was acquired for the implement/hardware business in 1952, but the source of this information is not stated. Hugo remained a crew change point until agreement changes in the 1970s permitted longer runs. The UP's Portland Rose passenger train stopped at Hugo until the advent of Amtrak in 1971.
It is unclear just when the building was abandoned as a business, but perhaps as the structure began deteriorating in the 1970s. Today it sits derelict, with much of the roof collapsed, the arched windows of the back wall deteriorating, and the interior filled with junk, old cars and trash. The surrounding area has seen no new development, and lies vacant, with tall grasses and weeds growing. A new county courthouse, distantly located to the southeast appears to be the only modern structure in sight. At this late date, it is difficult to visulaize hugo as a small but busy railroad center.
In 1995, a nearby resident, new to the area, saw the structure's historical value and took up the cause of saving the roundhouse, an effort that ultimately proved unsuccessful. Funding was applied for and received from the Colorado Historical Society, derived from legalized gambling revenues. The small grant was utilized for a historic site study, to determine the building's restoration needs, and plan for its future as a historical museum. This was administered via the East Central Colorado Resource Conservation and Development Council, an agency set up with federal funds to help communities develop historic and other assets to help their local economy.

The redevelopment plan, which included an HO scale model (see Editor's Comment below), showed the roundhouse as a historic site, though not exactly as it had been in the past. Four stalls were to house locomotives, some of which might be utilized for an "engineer for an hour" program to provide revenue. The other four stalls were to be utilized as museum space for artwork and smaller artifacts. Snack facilities were to be housed in a passenger car opposite the turntable. This departure from authenticity was deemed necessary at the time to sell the project to the public and make it economically viable.

Several presentations of the plan brought both positive and negative reactions among local residents. After a substantial investment in time and money, it became clear that small town politics were playing a negative role in the project's future. Much of the opposition came from the nearby town of Limon, the former junction point between the Union Pacific and Rock Island lines and today a major junction between Interstate 70 and other roads. Limon apparently wanted no part of anything they thought might detract from their own development plans. Another local person, head of a major rancher's organization, said he would do all he could to stop the project, but did not give justification for doing so.

The building's present owner, who acquired it in a tax sale, was initially receptive to the preservation plans, but later broke off all relations, and refused to allow the structural engineers to enter the building. This required all interior observations to be made from outside, through the broken windows and debris. The Union Pacific, which still owns the land the building sits on, was quite cooperative with the restoration effort. Interestingly, the railroad indicated it still had an 80-foot turntable stored for preservation.

After some time, the Colorado Historical Society, noting the animosity the project was causing, withdrew any further support, and the restoration idea quietly died, leaving the structure once again to the pigeons and the wind. It still sits today, in quiet solitude, awaiting for someone to save it.

As far as can be determined, the Hugo structure is one of only four extant roundhouses from the pre-merger UP lines. The others are at Cheyenne and Evanston, Wyoming, and Sterling, Colorado. The 26-stall facility at Evanston is said to be complete and used by a local business (Railway Preservation News would welcome a full report and photos). The Sterling roundhouse has six of ten stalls remaining, and is used for storage by the local street department, with numerous modifications. The Cheyenne roundhouse, just a fraction of its once immense size, today houses the UP steam and historic diesel collection. The remaining portion has been nicely restored by the railroad.

The structural report completed for the Hugo restoration study indicated the roundhouse was restorable with some expenditure of money and effort, but would likely not remain so for many more years unless stabilization procedures were begun soon. The concrete foundation was found stable and in good condition. The brick walls were in fair shape, with some deterioration of the parapets, and more substantial deterioration of the back wall, especially the arches over the windows. Masonry repairs would mostly involve the retrieval and reinstallation of fallen bricks, and a complete repointing. The roof had seen advanced damage, but the engineers determined approximately 25 percent of the rafters could be reused, with 50 percent of the beams and 75 percent of the columns reusable. Five of the original engine doors remain, and appeared to possibly be restorable. Some window frames appeared restorable as well.

The report outlined the needed steps to stabilize the structure. Stabilization costs were estimated between $40,000 and 80,000, assuming mostly contracted labor, with the bulk of the cost going for masonry work. Total restoration was estimated to take approximately five years, but the approximate costs were not estimated. Further inquiries may be made to the East Central Colorado Resource and Development Council, P.O. Box 157, Hugo, CO, 80821, (719) 743-2370, FAX (719) 743-2501.
Editor's Comment
Though the Hugo roundhouse project is considered dead at present, it still represents a fine, restorable historic resource that could give a substantial number of tourists a reason to visit an otherwise unremarkable "wide spot in the road" prairie town on their way to or from a Rockies vacation. Interstate 70 has diverted all but local traffic off U.S. 40 between Limon, Colorado and Oakley, Kansas, thus they need a worthwhile excuse to divert the 13 miles off the Interstate. A number of other eastern Colorado and western Kansas towns have begun to place "historic city tours" brochures in noticeable roadside locations, though none offer a restored railroad roundhouse. With the recent demise of the Alamosa roundhouse, Hugo is believed to be one of only five extant in the state. Kansas is believed to have no roundhouses remaining.
Redevelopment plans, as depicted in this HO scale layout, included a reinstalled turntable and tracks for four locomotives inside the building. The rest was to be used as museum/gallery space. Snack facilities were to be housed in a passenger car nearby, with typical modern plantings and asphalt parking facilities on-site. Photos by Robert Holland.
In addition, the openness of the site and existence of the original depot would permit authentic restoration/replication of the facility as it once existed. Ancillary structures were of simple frame design or old carbodies, easily replicated or obtained. These would be good vocational carpentry projects for area students. Smaller buildings, such as section houses, may have found their way onto area farms. The coaling facility was relatively small, and various scrap materials could likely be used in its reconstruction. The UP once had nearly 100 65,000 water tanks on its system; it is not unthinkable one might have escaped destruction for some other use, and could be obtained. Materials for reconstructed stock pens might be obtained from an abandoned livestock sale barn. It is not known if the UP still has the 80-foot turntable available (they recently installed a turntable at their new Hinkle, Oregon diesel facility), but others could likely be found.

Proper motive power to fill the roundhouse remains extant as well. Former UP 2-8-0 No. 264, now dismantled in Nevada, and 2-8-2 No. 2295, a rusting park display in Boise, Idaho, were both longtime Colorado Division engines. Other 2-8-0s and 2-8-2s (including USRA 2-8-2 No. 2537 at Walla Walla, Washington) also spent their last years working local freights in Colorado after their divisions in the far west dieselized. (The two extant UP 4-6-2s apparently spent their entire careers in Oregon, Washington and Idaho, and were never transferred east. Being a remote point, it is unlikely that Hugo was ever assigned one of the 0-6-0 switchers.) The larger 4-8-4 types could not utilize the turntable nor fit inside the roundhouse without leaving the doors open, but were common on such passenger trains as the Pony Express. No. 814 and other rail equipment in a park at Council Bluffs, Iowa may be moved soon. Being roller bearing-equipped, the locomotive could probably be moved on its own wheels. It is unknown if oil-burning 2-10-2 No. 5511, now at Cheyenne, was ever used on the Kansas Pacific line, though 2-10-2s were the commonly assigned freight power. No fueling facilities for oil-burning engines are listed for Hugo in the Historical Inventory of the Union Pacific Railroad - 1946, nor in the UP B&B records, but it is known that the oil-burning 4-8-4s, ran through Hugo regularly. First-generation switchers, such as ALCo S2s and S4s may have appeared on local freights in the early diesel years. Additional research concerning operations and "what-used-to-be-where?" would require interviews with retired railroad employees from the era, now quickly disappearing.

As always, this writer prefers the relatively strict "Colonial Williamsburg" method of historic site development, and the Hugo roundhouse and its surrounding area seems a perfect place to create a partly-replicated but highly accurate roundhouse museum. With considerable time, money and effort, the site could rival the East Broad Top, even though many of the buildings would be of new construction. Attention to detail is important, down to installing incandescent rather than modern sodium-vapor lighting, eliminating modern Coke machines, etc., etc.. Rail yards were relatively gritty places; manicured lawns, shrubbery and flowers were generally missing, though handicapped visitors might be accommodated with wooden or packed cinder sidewalks and electric "Rascal"-type scooters.

Until recently, the Kansas Pacific line was little-used west of Oakley, Kansas, but is now undergoing a major upgrading to handle overflow traffic from the UP's Nebraska main line. This would likely preclude any ideas of operating excursion trains from Hugo, other than occasional ones with the UP's own historic equipment. Relaid yard trackage, utilized for an "engineer for an hour" program could be legally segregated from the mainline with locks and derails.

With vision, one can see visitors arriving at the Hugo depot, returned to its proper trackside location, walking through (and perhaps dining on) a recreated Pony Express passenger train parked nearby, then moving forward to the engine cab, where an overalled engineer would explain the controls of the massive 4-8-4 and let them blow the whistle, with steam supplied from a nearby hidden boiler, or perhaps the rebuilt power house. Walking over to the roundhouse, they could help turn the turntable, watch an engine being coaled and watered, and with advanced reservations, actually take the throttle of a restored 2-8-0, ALCo switcher or GP9 for some back-and-forth instruction on the yard trackage. Volunteers at the site might sleep in the recreated bunkhouses, and perhaps commute in donated busses or vans from Denver and Colorado Springs, each about two hours away. The "engineer for an hour" program would provide the main source of income.

Such a scenario may seem unlikely to many, yet nearly every rail museum today has plans to someday build a large brick roundhouse and install a turntable, usually in locations where, historically, no previous rail yard existed. A couple of others have plans to dismantle and rebuild existing brick roundhouses at other locations. This brings up the question of just where scarce resources should be directed in the future of rail preservation, towards recreating history where it didn't happen or where it did. There are still a few other roundhouses and enginehouses at which a museum like the one just described might be developed, but they are disappearing fast.

Railway Preservation News welcomes your photos, news reports and thoughts about them.
---