---
previous brief ~
return to briefs index
~ next brief
---
Class QJ 2-10-2 Locomotives from China Bound for USA
Henry Posner, III, a railway entrepreneur with interests in railroads on four continents, announced April 21st that his company, Railroad Development Corp., has purchased a pair of Class QJ 2-10-2 locomotives from the Ji-Tong Railway in China, where they were among the last steam locomotives on earth to operate in heavy-duty main line service. The two locomotives were recently loaded aboard a ship at the port of Dalian for shipment to the U.S.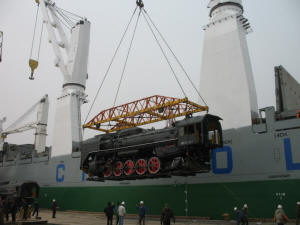 Ji-Tong Railway QJ no. 7081 is swung aboard a cargo ship in Dalian, China for shipment to the U.S., where it will be operated on the Iowa Interstate Railroad. The locomotive, along with sister 6988, were purchased by Henry Posner III of Railroad Development Corp. of Pittsburg, were overhauled to FRA specifications in China. Both are available for sale. No. 7081 hauled the last regularly scheduled steam-hauled main line passenger train on earth. Photo by Dennis Daugherty, RDC.
One of them, no. 7081, hauled the last regularly scheduled main line steam passenger train in the world. The second engine is no. 6988. The two locomotives were overhauled to meet FRA Part 230 specifications at the Jinzhou 701 Works in China, under the direction of Dennis Daugherty and under contract with the U.S. company Multipower International.
"I've been thinking about this for a year and a half now," said Mr. Posner on Friday. "This was the last opportunity to save a number of locomotives from the same class, along with a quantity of spare parts. I'm putting my money where my mouth is by taking the risk that these locomotives can be sold in the U.S."
Mr. Posner said the purchase was a "test of whether there is a market" for modern, ready-to-run locomotives in the United States. He said the cost of the locomotives will be "substantially less than the cost of overhauling a park locomotive," citing recent major overhauls in the U.S. costing over $1 million.
Mr. Posner said he plans to operate the locomotives in freight service on the Iowa Interstate Railroad, which Railroad Development Corporation (RDC) owns. He said the locomotives will operate once on the Iowa Interstate to demonstrate that they are FRA compliant and in operating condition. He said he hopes the locomotives will be sold within six months. He also said he has options on three additional QJ's if demand warrants.
"It will be interesting to see how running them on the Iowa Interstate goes," he said. "There may also be an opportunity for photo freights on the Iowa Interstate. We have to have some way to translate their operation into revenue for the Iowa Interstate."
Serious inquiries may be directed to hposneriii@rrdc.com.