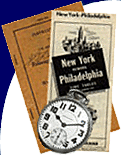 ---
previous brief ~
return to briefs index
~ next brief
---
Book Review: The Big Legacy of the Union Pacific Big Boy
Why Railfans Still Love the ''World's Largest'' Steam Locomotive
By James J. Reisdorff and Michael M. Bartels, 64 pages, soft cover, South Platte Press, $19.95 US
In the summer of 1956, my mother and I pulled up what few stakes we had in western Kansas and took a Greyhound bus to Colorado, where she had taken a housekeeping job, sight unseen, on a large wheat farm northwest of the tiny town of Nunn. In Kansas, the Rock Island had been dieselized for a few years and I was not old enough to remember steam locomotives there.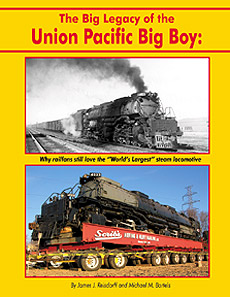 In Colorado, though, there was ample steam on both the Union Pacific and Colorado & Southern, with smaller engines on sugar beet locals and 4-8-4s, Challengers and Big Boys on through freights. They could be seen from the farmhouse window and even closer on trips to town
The job didn't last, and we eventually ended up in nearby Greeley, just as UP steam operations were almost done there. In the fall of 1958, one of her friends took myself and another boy to Cheyenne, to see the big roundhouse and shops there. Steam was nearly dead there also, but one Big Boy was hot by the coal chute, and we were invited into the cab for a quick trip over the turntable and into the house
In the excitement, I failed to note its number. There were a number of others dead in the roundhouse, and I remember Nos. 4002, 4019 and 4022, as well as several Challengers, an 0-6-0 and 4-8-4 No. 802. Thus began my fascination with the (sometimes disputed) "world's largest locomotive". Much has been written about them since
"The Big Legacy of the Union Pacific Big Boy", by James J. Reisdorff and Michael M. Bartels, continues the story from their retirement to the present. After the last runs in the summer of 1959, six of the 25 engines remained in the roundhouse at Green River, Wyoming, with four at Laramie and the rest gathered at Cheyenne. No. 4015, the last to operate, was the first one scrapped, in September 1961. All would eventually be towed dead to Cheyenne, with the last, No. 4005, coming in the spring of 1968, from Green River. Fourteen more would be cut up at Cheyenne by UP workers in the early-1960s, with the final three towed to their demise at the steel mill at Provo, UT. Eight would be saved and donated for display, with only one, No. 4004, donated to a city park, in Cheyenne, the rest going to rail museums
Whether the stories of the 4005 being held for shipment to Argentina are true or not are unclear, but it was donated to the Forney Museum in Denver in 1970. Details of the donations, and movement of the locomotives to their respective sites, is well documented. In the early 1960s, a Big Boy was worth about $18,000 in scrap, so represented a considerable tax write-off for the time
As the years wore on, those displayed outside began the usual sad deterioration process. Two would eventually end up under cover, at Green Bay, Wisconsin and Denver, Colorado, in enclosed buildings. No. 4023, long held at Cheyenne, eventually moved to Omaha in the 1970s, for display at multiple locations. Its final move, in March 2005, was on rubber-tired moving equipment, to a hilltop park location there, from which it is unlikely to ever be retrieved
Subsequent chapters cover the Big Boy image in promotional material, various production and scratch built models of the locomotive, live steam versions in 1/8 size, other related merchandise, the failed effort to return No. 4018 to steam in Dallas, and the unlikely possibility of returning one of the engines to steam again
As usual, South Platte Press has packed a lot of interesting information and photographs into an inexpensive, 64-page paperback, that is well worth the $19.95 price. See their website for ordering details.