---
previous brief ~
return to briefs index
~ next brief
---
Book Review: The Santa Fe Railway and the Lost Locomotives of Topeka
Written by James J. Reisdorff & Lloyd Stagner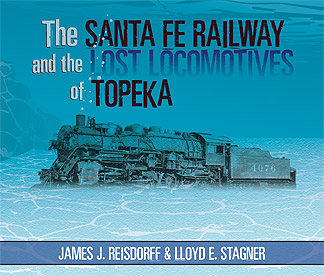 South Platte Press
P.O. Box 163
David City, NE 68632
56 pages, illustrated
This paperback volume tells the tale of the Kaw River flood of 1951, the worst flood, damage wise, in Kansas history. In July, 1951, the Kansas (locally known as the Kaw) River crested nearly 15 feet above flood stage, causing nearly one billion dollars damage in 1951 figures in the Kansas/Missouri region. The area's railroads were devastated, with the worst damage at Topeka, where both the Santa Fe and Rock Island railroad bridges were lost.
Both railroads tried to save the bridges by weighting them down, the Rock Island with freight cars full of stone and the Santa Fe with old steam locomotives headed for scrap. On July 13, just after noon, two of the middle spans of the Santa Fe bridge fell after a pier failed, dropping three of the ten engines on the bridge into the water.
Two Mikados and one 2-6-2 were lost, the Prairie type and one 2-8-2 sinking close by. The other Mikado was apparently swept further downstream and was never located.
In 1956, a particularly dry year, workers went into the riverbed and burned off parts of the 2-8-2 and 2-6-2 that protruded out of the mud. No further exploration was attempted to find No. 4076, the other missing Mikado, and it is presumed to lie covered in mud today at the bottom of the Kaw, entangled in the section of truss bridge it fell with.
Many "lost locomotives" are merely tall tales that have been expanded over the years, but this one is true and there are many rare photos in the book to illustrate the fact. No. 4076 is the last remaining intact Santa Fe 2-8-2 and also the largest submerged locomotive that anyone knows of in North America. Hopefully this interesting work might inspire someone with modern locating devices, whether magnetic, sonar, radar or a combination thereof to do a little exploring and find that missing engine.
The book is $19.95 plus $5.00 postage, and may be ordered online at: http://www.southplattepress.com/current/lostlocotopeka.html